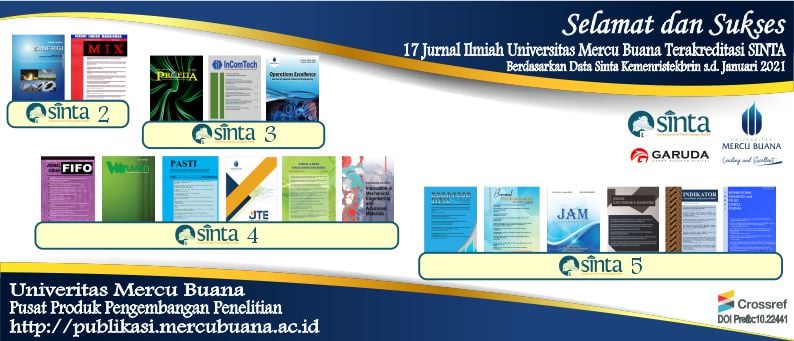 A B C D E F G H I J K L M N O P Q R S T U V W X Y Z All
PEMANAS: Jurnal Pengabdian Masyarakat Nasional
PEMANAS: Jurnal Pengabdian Masyarakat Nasional
View Journal | Current Issue | Register
Proceeding Sinaptika
Sinaptika Fasilkom
View Journal | Current Issue | Register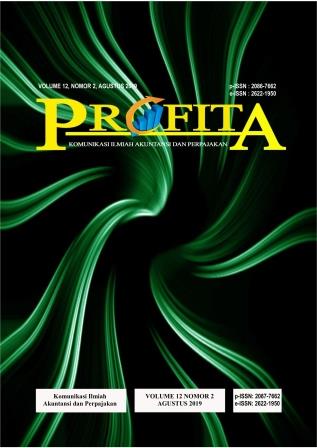 Profita : Komunikasi Ilmiah Akuntansi dan Perpajakan
---
| | |
| --- | --- |
| Journal title | Profita : Komunikasi Ilmiah Akuntansi & Perpajakan |
| Initials | Profita |
| Print ISSN | 2086-7662 |
| Online ISSN | 2622-1950 |
| Accreditation Status | Sinta 3 Accredited Journal, Decree No: 200/M/KPT/2020 |
| Frequency | 3 issues per year (April, August, and December) |
| DOI Journal | 10.22441/profita by |
| OAI Journal | http://publikasi.mercubuana.ac.id/index.php/Profita/oai by |
| Editor-in-chief | Prof. Dr. Wiwik Utami, SE., M.Si., Ak., CA. |
| Managing Editor | Yananto Mihadi Putra, SE., M.Si. |
| Publisher | Universitas Mercu Buana |
| Citation Analysis | Scopus, Google Scholar, Sinta |
| Indexing | Google Scholar, DOAJ, Copernicus, Sinta, Garuda, EBSCO, BASE, and more. |
---
Profita: Komunikasi Ilmiah & Perpajakan is a peer-reviewed journal in the field of Accounting and Taxation who jointly published by the Department of Accounting, Faculty of Economics and Business, Universitas Mercu Buana with Institute of Indonesian Chartered Accountants (IAI). This journal discusses the results of research and non-research / study of conceptual and applied sciences related to the field of Accounting and Taxation and available in a Print version (p-ISSN: 2086-7662) and Online version (e-ISSN: 2622-1950).
Profita: Komunikasi Ilmiah & Perpajakan is one of the periodical scientific publications which is genuinely written by both researcher or practitioners who in the field of Accounting and Taxation to publish the results their writing. The Journal has been registered with CrossRef system with Digital Object Identifier (DOI), indexed by Google Scholar, DOAJ, Copernicus, Sinta, Garuda, EBSCO, BASE, and more., and was regularly published 3 (three) times in 1 (one) year, i.e. in April, August and December.
View Journal | Current Issue | Register
Prosiding Seminar Nasional Forkepti I4.0 Teknik dan Manajemen Industri
Prosiding Seminar Nasional Forkepti I4.0 Teknik dan Manajemen Industri
View Journal | Current Issue | Register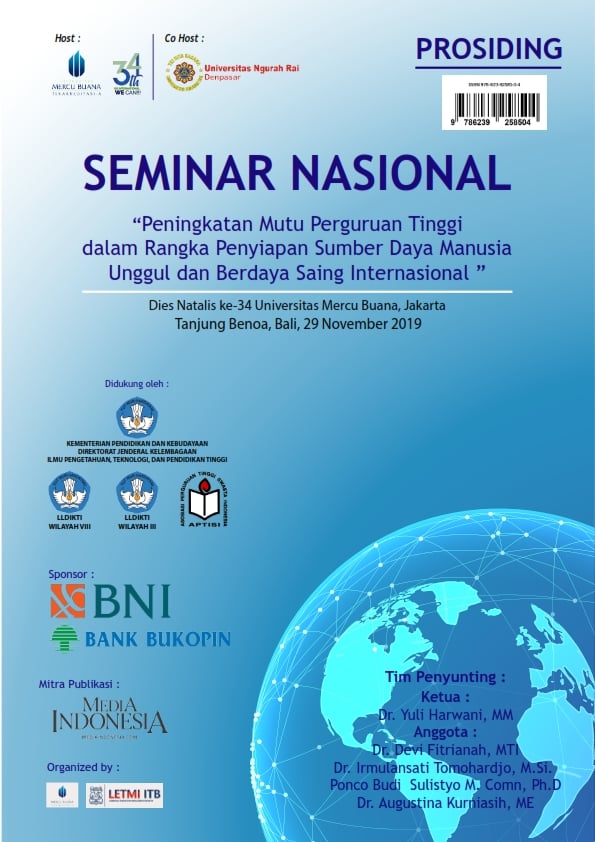 Prosiding Seminar Nasional Peningkatan Mutu Perguruan Tinggi
Prosiding Seminar Nasional Universitas Mercu Buana (UMB) Jakarta dengan tema "Peningkatan Mutu Perguruan Tinggi dalam Rangka Penyiapan Sumber Daya Manusia Unggul dan Berdaya Saing Internasional"merupakan kajian yang membahas tentang mutu perguruan tinggi menjadi tolok ukur keberhasilan suatu bangsa, khususnya dalam proses pendidikan dan penguatan kualitas sumber daya manusia yang kemudian menjadi dedikasi utama UMB secara berkelanjutan.
Salah satu kontribusi untuk pengembangan dan penyiapan mutu tersebut, sekaligus Dies Natalis UMB ke 34 Tahun, maka diselenggarakan Seminar Nasional yang bertempat di The Sakala Tanjung Benoa, Bali, Jumat 29 November 2019.
Seminar Nasional menjadi wadah bagi para praktisi dan akademisi untuk mengekspresikan secara tertulis dan visual, potensinya dalam meneliti, menulis dan mempresentasikan ide ide kreatif. Maka disusunlah Prosiding Seminar Nasional dengan memfokuskan pada kajian multi perspektif yang meliputi Manajemen SDM, Keuangan Berkelanjutan, Teknologi, Sumberdaya Energi Terbarukan, Literasi Digital, Konten Industri Kreatif Era 4.0 dan Green Management.
Kajian yang beragam tersebut mendukung pengembangan ilmu pengetahuan dan nilai universal, yang seyogyanya dimiliki oleh perguruan tinggi, melalui gagasan ilmiah yang telah teruji. Sehingga menjadi sebuah karya ilmiah yang populer, terkini dan memberikan solusi terhadap persoalan sosial kemasyarakatan yang saat ini sedang terjadi. Hal itu berbasiskan pendekatan dan pengetahuan yang multidisipliner.
Semoga Prosiding Seminar Nasional yang disusun dari sejumlah tulisan dapat memenuhi harapan para pembaca, seluruh stakeholder yang berkepentingan, Amin YRA. Secara khusus kami ucapkan Terima Kasih kepada para pemakalah yang telah mengirimkan hasil karyanya, Tim Penyunting dari UMBJ, dukungan Co Host Universitas Ngurah Rai Denpasar, LIPI, Tim Desainer, para Moderator serta pihak pihak yang mendukung tersusunnya Prosiding Seminar Nasional ini.