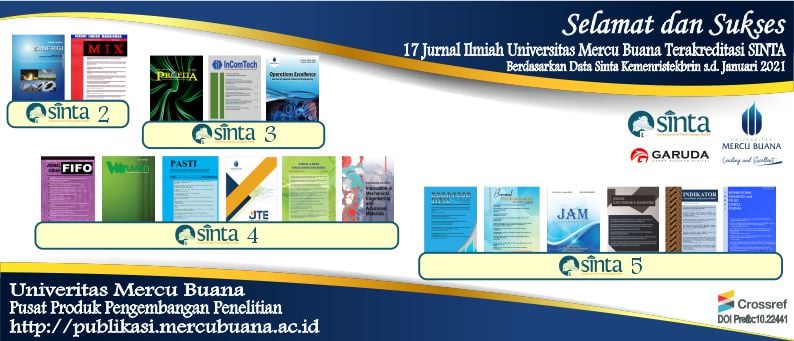 A B C D E F G H I J K L M N O P Q R S T U V W X Y Z All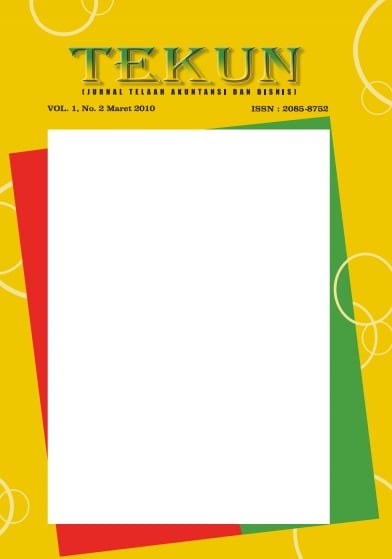 TEKUN: Jurnal Telaah Akuntansi dan Bisnis
View Journal | Current Issue | Register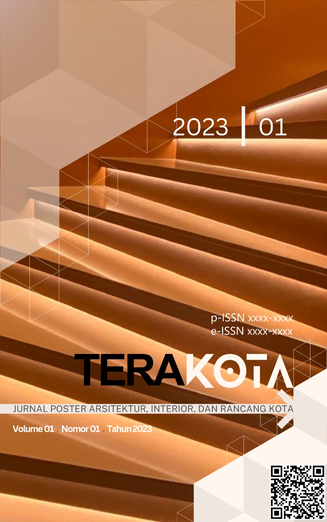 TERAKOTA : Jurnal Poster Arsitektur, Interior dan Rancang Kota
---
TERAKOTA : Jurnal Poster Arsitektur, Interior dan Rancang Kota
 is an architecture poster journal publication in colaboration of Department of Architecture in Engineering Faculty at Universitas Mercu Buana with TA committee. 
TERAKOTA
 is a scientific publication and communication media of architecture final works
View Journal | Current Issue | Register
terbitan
View Journal | Current Issue | Register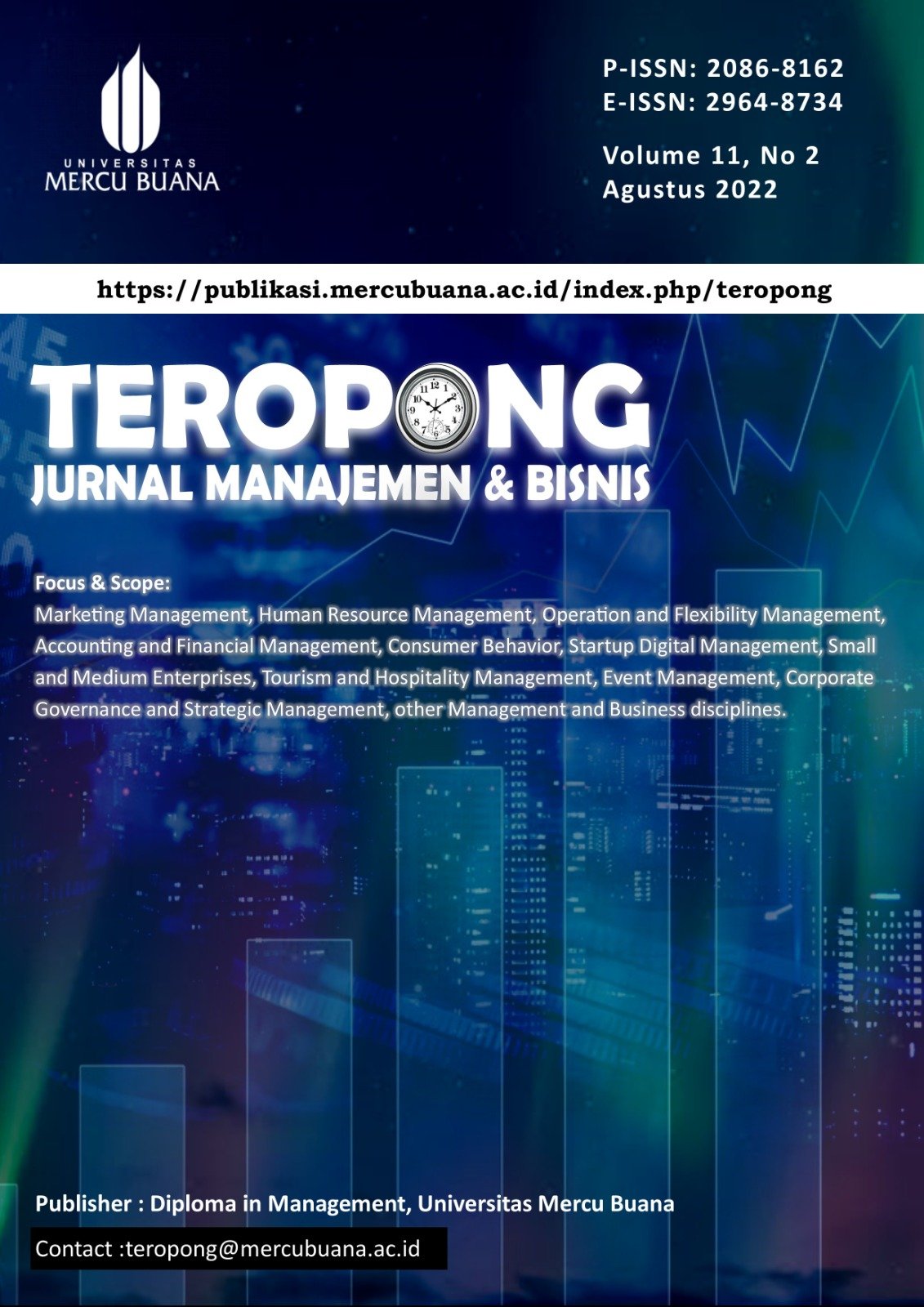 Teropong : Jurnal Manajemen dan Bisnis
---
---
TEROPONG: Jurnal Manajemen dan Bisnis with ISSN: 2086-8162 (printed), is published by Diploma in Management, Faculty of Economics and Business, Universitas Mercu Buana. TEROPONG Journal is published thrice a year in April, August, and December. TEROPONG Journal will review all submitted manuscripts by external and internal Editorial Team and Reviewers. The manuscripts will be reviewed by double-blind peer reviewer. 
TEROPONG Journal invites Author to submit articles with the following scopes: Marketing Management, Human Resource Management, Operation and Flexibility Management, Accounting and Financial Management, Consumer Behavior, Startup Digital Management, Small and Medium Enterprises, Tourism and Hospitality Management, Event Management, Corporate Governance and Strategic Management, other Management and Business disciplines.
View Journal | Current Issue | Register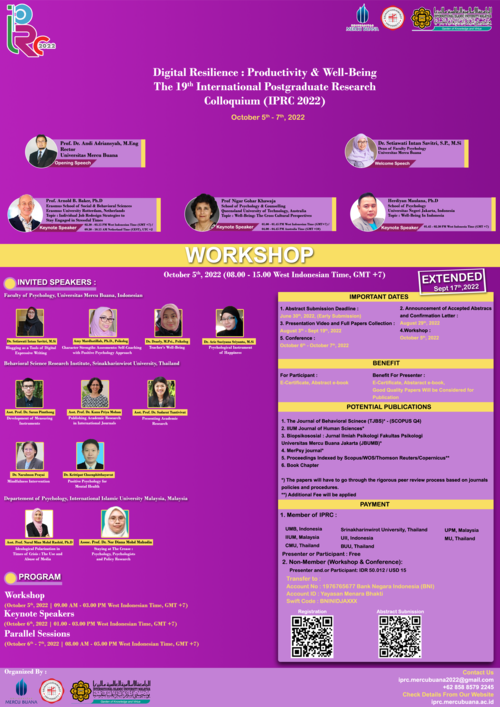 The 19th International Postgraduate Research Colloquium (IPRC)
---
<
The first International Postgraduate Research Colloquium (IPRC) was co-hosted by the Behavioral Science Research Institute, (BSRI), Srinakharinwirot University (SWU), Thailand and the Department of Psychology, International Islamic University Malaysia (IIUM) in 2004. Following this, the IPRC was co-hosted by each faculty in alternate years; the IIUM hosted IPRC in 2004 and continued in 2006, 2008, 2010, 2012, 2014, 2016, 2018, and February 2021. The BSRI has hosted the event at Srinakharinwirot University, Bangkok in 2005, 2007, 2009, 2011, 2013, 2015, 2017, 2019, and October 2021.  The colloquium is held to provide an avenue of interaction among postgraduate students and academics from Malaysia and Thailand.  Every IPRC was held, both faculty members and students (at graduate and PhD levels) are invited to share their research works and proposals at the colloquium. Papers submitted should match the theme of the IPRC. The IPRC invites participants from the universities in the ASEAN region and other countries in ASIA to join this academic exchange.
Since 2014, the organization of the IPRC has expanded to include other universities in Malaysia and Thailand such as Universiti Putra Malaysia (UPM), Selangor, Malaysia and Chiang Mai University (CMU), Thailand. In 2018 Faculty of Psychology, Universitas Mercu Buana (UMB) participated as presenters in IPRC event and then signed MoU with BSRI and IIUM, and officially joined as part of IPRC in 2019 along with Universitas Islam Indonesia (UII). Later, In 2021, two more universities joined IPRC: College of Research Methodology and Cognitive Science, Burapha University (BUU), Thailand; and Department of Education, Faculty of Social Sciences and Humanities, Mahidol University (MU), Thailand.