---
---
TEROPONG: Jurnal Manajemen dan Bisnis with ISSN: 2086-8162 (printed), is published by Diploma in Management, Faculty of Economics and Business, Universitas Mercu Buana. TEROPONG Journal is published thrice a year in April, August, and December. TEROPONG Journal will review all submitted manuscripts by external and internal Editorial Team and Reviewers. The manuscripts will be reviewed by double-blind peer reviewer. 
TEROPONG Journal invites Author to submit articles with the following scopes: Marketing Management, Human Resource Management, Operation and Flexibility Management, Accounting and Financial Management, Consumer Behavior, Startup Digital Management, Small and Medium Enterprises, Tourism and Hospitality Management, Event Management, Corporate Governance and Strategic Management, other Management and Business disciplines.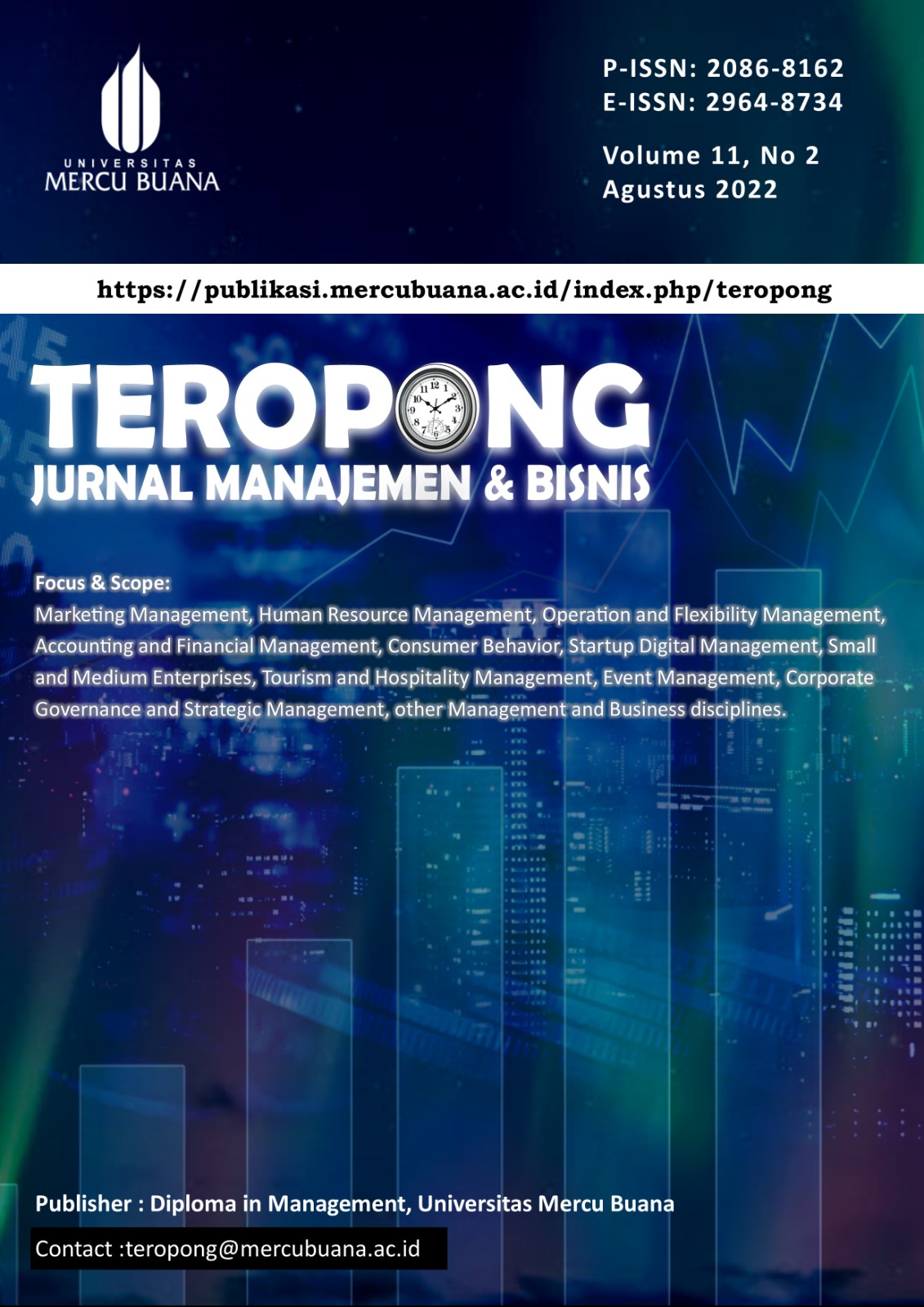 ONLINE SUBMISSION
All papers are expected to follow the house-style and the author should provide contact information (e-mail and phone number) for the purpose of communicating about the paper. The paper should be submitted through the online submission system.
Already have a Username/Password for Teropong : Jurnal Manajemen dan Bisnisl? GO TO LOGIN
Need a Username/Password? GO TO REGISTRATION
or, please GO TO ONLINE SUBMISSION for more information.
If there is any problem with online submission, please email us [email protected] (Subject: Name – Problem Online Submission).
LANGUAGE EDITION
The Teropong : Jurnal Manajemen dan Bisnis of Universitas Mercu Buana was published in Indonesian and English. It is expected that the authors submit the paper in Indonesian and English.
Announcements
No announcements have been published.
Vol 12, No 1 (2023)
Table of Contents
Articles
| | | |
| --- | --- | --- |
| | Nurul Komara Fajrin, Cut Edwina Safia Oebit | 1-7 |
| | | |
| --- | --- | --- |
| | Anggie Agrilia, Viciwati Viciwati | 8-18 |
| | | |
| --- | --- | --- |
| | Mochamad Rizki Sadikin, Ainudin Ainudin | 19-34 |
| | | |
| --- | --- | --- |
| | Elvina Buratu Siva, Hamdan Hamdan | 35-46 |
| | | |
| --- | --- | --- |
| | Rizki Suryandari, Yuhasril Yuhasril | 47-57 |