---
---
Jurnal Abdi Masyarakat (JAM) published since September 2015 by Pusat Pengabdian Masyarakat (PPM) Universitas Mercu Buana. JAM Journal is published two times a year (on-line). Therefore, the JAM Journal has two numbers of Issues in March and September. Each Issue contains 10 articles. The aim of Jurnal Abdi Masyarakat (JAM) is to publish the result of community services activities from the perspective of Technology, Entrepreneurship and Social Society.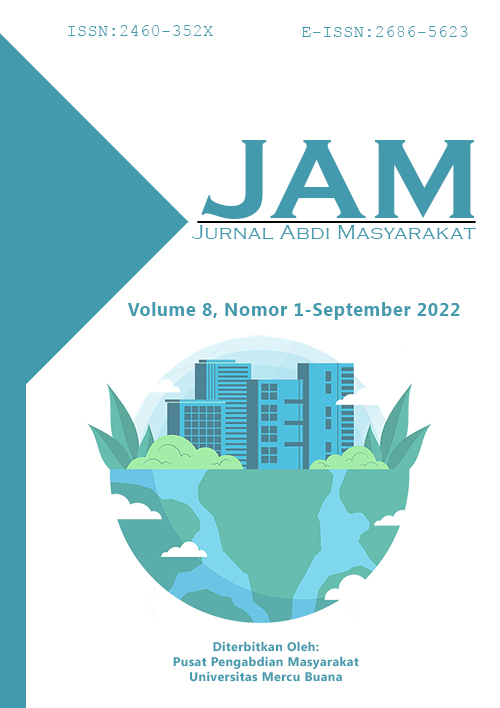 ONLINE SUBMISSION
All papers are expected to follow the house-style and the author should provide contact information (e-mail and phone number) for the purpose of communicating about the paper. The paper should be submitted through the online submission system.
Already have a Username/Password for Jurnal Abdi Masyarakat (JAM)? GO TO LOGIN
Need a Username/Password?�GO TO REGISTRATION
or, please GO TO ONLINE SUBMISSION for more information.
If there is any problem with online submission, please email us jam@mercubuana.ac.id (Subject: Name - Problem Online Submission).
LANGUAGE EDITION
The Jurnal Abdi Masyarakat (JAM) of Universitas Mercu Buana was published in Indonesian and English. It is expected that the authors submit the paper in Indonesian or English.
Announcements
No announcements have been published.
Vol 8, No 2 (2023): JAM (Jurnal Abdi Masyarakat)-Maret 2023
Table of Contents
Articles
| | | |
| --- | --- | --- |
| | Nur Kholisoh, Leila Mona Ganiem, Rohana Mijan | 104-115 |
| | | |
| --- | --- | --- |
| | Ratna Marta Dhewi, Rakhmini Juwita, Suhartono Suhartono, Veronica Kristiani | 116-126 |
| | | |
| --- | --- | --- |
| | Arsa Widitiarsa Utoyo, Tobias Warbung, Hervina Aprilla | 127-134 |
| | | |
| --- | --- | --- |
| | Mas Wahyu Wibowo, Sonny Indrajaya, Dudi Permana | 135-139 |
| | | |
| --- | --- | --- |
| | Suparto Darudiato | 140-148 |
| | | |
| --- | --- | --- |
| | Erna Risnawati, Ratri Kartiningtyas, Fatma Nur Aqmarina | 149-155 |
| | | |
| --- | --- | --- |
| | Ruswanto Ruswanto, Tita Nofianti, Tresna Lestari, Mochamad Fathurohman | 156-161 |
| | | |
| --- | --- | --- |
| | Gede Bagus Arcana, Gusi Putu Lestara Permana, Kadek Adyatna Wedananta | 162-166 |
| | | |
| --- | --- | --- |
| | Cindi Dwi Agustini, Dita Handayani | 167-177 |
| | | |
| --- | --- | --- |
| | Putri Suryandari, Rismawandi Rismawandi, Anggraeni Diah | 178-188 |