Selamat Datang di Website Publikasi Jurnal Universitas Mercu Buana
Publikasi Universitas Mercu Buana adalah sistem penerbitan Jurnal Online berbasis Open Journal System yang diterbitkan oleh Universitas Mercu Buana.
Alamat OAI masing-masing jurnal:
http://publikasi.mercubuana.ac.id/[path_jurnal]/oai
ex. http://publikasi.mercubuana.ac.id/jurnal_mix/oai
Apabila terdapat pertanyaan lebih lanjut terkait Jurnal Online Universitas Mercu Buana (pembuatan jurnal, panduan, pelatihan jurnal, pelaporan bug atau error) silahkan menghubungi Pusat Pengembangan Produk Penelitian Universitas Mercu Buana (P4-UMB) Jakarta melalui email p4[at]mercubuana.ac.id.
Pusat Pengembangan Produk Penelitian (P4)
Universitas Mercu Buana, Jakarta
Jl.Meruya Selatan Kembangan Jakarta Barat 11650.
Website: http://p4.mercubuana.ac.id
A B C D E F G H I J K L M N O P Q R S T U V W X Y Z All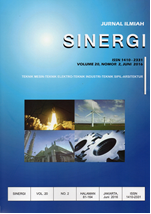 SINERGI
SINERGI is a peer-reviewed international journal published three times a year in February, June, and October. The journal is published by Faculty of Engineering, Universitas Mercu Buana. Each publication contains articles comprising high quality theoretical and empirical original research papers, review papers, and literature reviews that are closely related to the fields of Engineering (Mechanical, Electrical, Industrial, Civil, and Architecture). The theme of the paper is focused on new industrial applications and energy development that synergize with local, green and sustainable technologies. The journal registered in the CrossRef system with Digital Object Identifier (DOI). The journal has been indexed by Google Scholar, DOAJ, BASE, and EBSCO.