---
---
SINERGI is a peer-reviewed international journal published three times a year in February, June, and October. The journal is published by Faculty of Engineering, Universitas Mercu Buana. Each publication contains articles comprising high quality theoretical and empirical original research papers, review papers, and literature reviews that are closely related to the fields of Engineering (Mechanical, Electrical, Industrial, Civil, and Architecture). The theme of the paper is focused on new industrial applications and energy development that synergize with global, green and sustainable technologies. The journal registered in the CrossRef system with Digital Object Identifier (DOI). The journal has been indexed by Google Scholar, DOAJ, BASE, and EBSCO.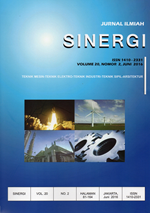 ONLINE SUBMISSION
All papers are expected to follow the house-style and the author should provide contact information (e-mail and phone number) for the purpose of communicating about the paper. The paper should be submitted through the online submission system.
Already have a Username/Password for SINERGI? GO TO LOGIN
Need a Username/Password? GO TO REGISTRATION
or, GO TO ONLINE SUBMISSION
If there is any problem with online submission, please email andi@mercubuana.ac.id (Subject: Name - Problem Online Submission).
ENGLISH EDITION
It was announced that, since the issue of Vol. 22 February 2018, SINERGI will be published in English. It is expected that the authors submit the paper in English.
Thank you.
Announcements
National Accreditation

National Accreditation
Posted: 2019-07-24
More...

English Edition

English Edition
Posted: 2018-01-23
More...
Vol 27, No 3 (2023)
Table of Contents
Articles
| | | |
| --- | --- | --- |
| | Rikko Putra Youlia, Diah Utami, Dedik Romahadi, Yang Xiawei | 289-308 |
| | | |
| --- | --- | --- |
| | Muhammad Darsono, Muhammad Rega | 309-318 |
| | | |
| --- | --- | --- |
| | Bagus Adi Saputra, Nurato Nurato | 319-326 |
| | | |
| --- | --- | --- |
| | Irwin Bizzy, Darmawi Darmawi, Agung Mataram, Fadhil Fuad Rachman | 327-332 |
| | | |
| --- | --- | --- |
| | Mairizal Mairizal, Rahmat Alifiardi, Gilang Ardi Pratama, Mohd Zaimi Abd Majid, Shek Poi Ngian | 333-342 |
| | | |
| --- | --- | --- |
| | Ade Purwanto, Dewi Habsari Budiarti, Fithri Nur Purnamastuti, Irfansyah Yudhi Tanasa, Yomi Guno, Aris Surya Yunata, Mukti Wibowo, Asyaraf Hidayat, Dede Dirgahayu | 343-360 |
| | | |
| --- | --- | --- |
| | Dedi Wardianto, Mafrizal Mafrizal, Sufiyanto Sufiyanto, Rudi Kurniawan Arief, Herry Agung Prabowo, Irfan Hilmy | 361-370 |
| | | |
| --- | --- | --- |
| | I Made Agus Dharmadiatmika, Kadek Edi Saputra, Naniek Kohdrata, Hinako Yamagami | 371-382 |
| | | |
| --- | --- | --- |
| | Erkata Yandri, Sparisoma Viridi, Rizal F. Hariadi | 383-392 |
| | | |
| --- | --- | --- |
| | Hedy Herdyana, Agus Suroso | 393-404 |
| | | |
| --- | --- | --- |
| | Ayuddin Ayuddin, K. R. Bindhu | 405-414 |
| | | |
| --- | --- | --- |
| | Baihaqi Baihaqi, Khairi Suhud, Sagir Alva, Eka Safitri, Julinawati Julinawati, Binawati Ginting, Syafrizal Fonna, Ahmad Kamal Arifin, Zulnazri Zulnazri, Nurul Islami | 415-422 |
| | | |
| --- | --- | --- |
| | Mansur Mansur, Muhammad Ruswandi Djalal | 423-432 |
| | | |
| --- | --- | --- |
| | Yolanda Enza Wella, Okfalisa Okfalisa, Fitri Insani, Faisal Saeed, Ab Razak Che Hussin | 433-442 |
| | | |
| --- | --- | --- |
| | Cut Ita Erliana, Iskandar Hasanuddin, Yuwaldi Away, Raja Ariffin Raja Ghazilla | 443-450 |
| | | |
| --- | --- | --- |
| | Dama Anand, Osamah Ibrahim Khalaf, Fahima Hajjej, Wing-Keung Wong, Shin-Hung Pan, Gogineni Rajesh Chandra | 451-466 |