Jurnal Ilmiah SINERGI adalah peer-reviewed jurnal yang diterbitkan 3 (tiga) kali dalam setahun, yaitu pada bulan Februari, Juni dan Oktober yang diterbitkan oleh Fakultas Teknik, Universitas Mercu Buana (UMB). Redaksi menerima tulisan ilmiah tentang hasil penelitian yang berkaitan erat dengan bidang Teknik (Mesin, Elektro, Industri, Sipil dan Arsitektur). Tema tulisan difokuskan kepada aplikasi di bidang industri dan pengembangan energi baru yang sinergi dengan nilai lokal, teknologi hijau dan berkelanjutan.
Jurnal Ilmiah SINERGI telah diindeks secara nasional oleh Indonesian Publication Index (IPI) Portal Garuda dan Science and Technology Index (SINTA). Selain itu, secara internasional telah terindeks pada Directory of Open Access Journal (DOAJ) dan terdaftar pada system CrossReff dengan Digital Object Identifier (DOI) prefix 10.22441.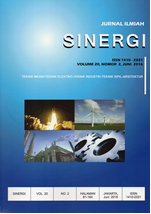 Online Submission
Kami lebih berharap agar tulisan ilmiah dikirim menggunakan system online (online submission). Dengan menggunakan system   online ini, penulis dapat meng-upload file tulisan ilmiah secara langsung ke kami dan dapat mencek status tulisan ilmiahnya selama proses review. Pertama, author diharapkan melakukan registrasi sebagai author, dengan cara melakukan login ke system, untuk kemudian dapat meng-upload tulisan ilmiahnya.
Already have a Username/Password for SINERGI?
Need a Username/Password?
or,
Jika terdapat masalah terhadap online submission, sila mengirimkan email ke andi@mercubuana.ac.id (Subject: Nama – Problem Online Submission), dan cc: andi_a3@yahoo.com. 
Announcements
No announcements have been published.