---
| | |
| --- | --- |
| Journal title | Indikator: Jurnal Ilmiah Manajemen dan Bisnis |
| Initials | Indikator |
| Print ISSN | 2598-6783 |
| Online ISSN | 2598-4888 |
| Accreditation Status | Sinta 5 Acreditateed Journal, No. 200/M/KPT/2020 |
| Frequency | 3 issues per year (January, April and August) |
| DOI Journal | 10.22441/indikator by |
| OAI Journal | http://publikasi.mercubuana.ac.id/index.php/indikator/oai by |
| Editor-in-chief | Dr. Asep Risman, SE; MM |
| Publisher | Universitas Mercu Buana |
| Cite Analysis | Google Scholar |
| Indexing | Google Scholar, SINTA, Copernicus, Crossref, Neliti, Garuda, ResearchGate, EuroPub, BASE, WorldCat, Dimensions, PKP Index, Academia, |
---
INDIKATOR  is an international scientific journal of management and business, published three times a year in January, April and August. The journal scope and focus are finance management, human resource management and marketing management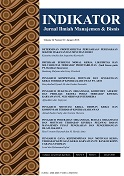 ONLINE SUBMISSION
All papers are expected to follow the house-style and the author should provide contact information (e-mail and phone number) for the purpose of communicating about the paper. The paper should be submitted through the online submission system.
Already have a Username/Password for Indikator: Jurnal Ilmiah Manajemen & Bisnis? GO TO LOGIN
Need a Username/Password? GO TO REGISTRATION
or, please GO TO ONLINE SUBMISSION for more information.
If there is any problem with online submission, please email us editor.profita@mercubuana.ac.id (Subject: Name – Problem Online Submission).
LANGUAGE EDITION
The Indikator: Jurnal Ilmiah Manajemen & Bisnis of Universitas Mercu Buana was published in English. It is expected that the authors submit the paper should be in English.
Manuscript Template

Download and save the template file to your computer. Manuscripts should be submitted in Microsoft Word (.doc/.docx) format.
Announcements
Internationalization

Since 1 January 2022, the Indikator Journal will become a fully English
Posted: 2022-01-01
Vol 7, No 3 (2023)
Table of Contents
Articles
| | | |
| --- | --- | --- |
| | Godwin Omafuru Demaki, Goddey Ibrighademor | 1 - 12 |
| | | |
| --- | --- | --- |
| | Gilang Pratama Hafiz, Dodi Ria Atmaja, Fachmi Tamzil | 13 - 22 |
| | | |
| --- | --- | --- |
| | Agus Yulianto, Indra Siswati | 23 - 32 |
| | | |
| --- | --- | --- |
| | Mita Kalsum, Khadijah Nurani | 33 - 42 |
| | | |
| --- | --- | --- |
| | Mayuna Farah Wijayanti, Khoirul Hikmah | 43 - 50 |
| | | |
| --- | --- | --- |
| | Rio Afrianda, Veithzal Rivai Zainal, Indra Siswanti | 51 - 58 |
| | | |
| --- | --- | --- |
| | Hidayatul Sofianis, Habibatur Ridhah | 59 - 65 |
| | | |
| --- | --- | --- |
| | Markonah Markonah, Irma Selliamanik | 66 - 78 |
| | | |
| --- | --- | --- |
| | Febby Tri Utari, Arief Subyantoro | 79 -88 |
| | | |
| --- | --- | --- |
| | Mita Mita, Amsah Hendri Doni | 89 - 100 |
| | | |
| --- | --- | --- |
| | Muslikin Muslikin, Rahmad Afrenal Alim | 100 - 112 |
| | | |
| --- | --- | --- |
| | Saifudin Saifudin | 113 - 119 |