Narada: Jurnal Desain dan Seni (e-issn 2621-5233 p-issn 2477-5134) diterbitkan oleh Fakultas Desain dan Seni Kreatif, Universitas Mercu Buana. Jurnal ini merupakan sarana untuk mempublikasikan tulisan ilmiah berupa hasil penelitian, hasil pemikiran (gagasan konseptual), serta hasil perancangan karya desain dan seni yang up-to-date  dalam ruang lingkup bidang desain dan seni rupa yang mencakup desain interior, desain produk, desain fashion, desain grafis, desain multimedia, desain komunikasi visual, fotografi, HAKI Desain, Hak Cipta Desain serta bidang-bidang perluasan dari peminatan seni rupa lainnya yang ditujukan untuk mengembangkan bidang ilmu-ilmu tersebut.
Narada: Jurnal Desain dan Seni terbit sebanyak tiga kali dalam setahun, yakni pada bulan April, September, dan Desember.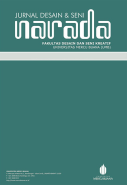 ONLINE SUBMISSION
All papers are expected to follow the house-style and the author should provide contact information (e-mail and phone number) for the purpose of communicating about the paper. The paper should be submitted through the online submission system.
Already have a Username/Password for NARADA? GO TO LOGIN 
Need a Username/Password? GO TO REGISTRATION
or, GO TO ONLINE SUBMISSION
If there is any problem with online submission, please email waridah.muthiah@mercubuana.ac.id (Subject: Name – Problem Online Submission).  
Thank you.
Announcements
No announcements have been published.
Vol 5, No 3 (2018)