Jurnal ilmiah bidang studi Desain dan Komunikasi. Jurnal Narada merupakan sarana publikasi hasil penelitian yang up-to-date terhadap bidang-bidang ilmu tersebut dan ditujukan untuk mengembangkan bidang ilmu-ilmu tersebut untuk mencapai state of the art.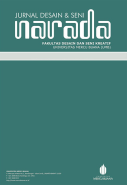 ONLINE SUBMISSION
All papers are expected to follow the house-style and the author should provide contact information (e-mail and phone number) for the purpose of communicating about the paper. The paper should be submitted through the online submission system.
Already have a Username/Password for NARADA? GO TO LOGIN 
Need a Username/Password? GO TO REGISTRATION
or, GO TO ONLINE SUBMISSION
If there is any problem with online submission, please email waridah.muthiah@mercubuana.ac.id (Subject: Name – Problem Online Submission).  
Thank you.
Announcements
No announcements have been published.