---
---
Operations Excellence: Journal of Applied Industrial Engineering publish theoretical and empirical articles that are aimed to contrast and extend existing theories and build new theories that contribute to advancing our understanding of phenomena related to industrial engineering and management in organizations, from the perspectives of Quality Engineering, Productivity Improvement, Logistic & Distribution, Supply Chain Management, Performance Management & Improvement System, Modelling, Operations Management, Optimization, Green Manufacturing, and Ergonomic. The contributions can adopt confirmatory (quantitative) or explanatory (mainly qualitative) methodological approaches. Theoretical essays or Literature reviews that enhance the building or extension of theoretical approaches are also welcome.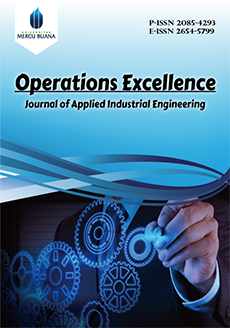 ONLINE SUBMISSION
All papers are expected to follow the house-style and the author should provide contact information (e-mail and phone number) for the purpose of communicating about the paper. The paper should be submitted through the online submission system.
Already have a Username/Password for Operations Excellence: Journal of Applied Industrial Engineering? GO TO LOGIN
Need a Username/Password? GO TO REGISTRATION
or, please GO TO ONLINE SUBMISSION for more information.
If there is any problem with online submission, please email us oe@mercubuana.ac.id (Subject: Name - Problem Online Submission).
Announcements
Article in English

Starting from vol. 15, no. 2, July 2023, we publish only articles written in English. We invite authors from all over the world to publish in our journal.
Posted: 2023-04-13
Vol. 15, No. 1, (2023): OE March 2023
Table of Contents
| | | |
| --- | --- | --- |
| | Nyimas Desy Rizkiyah, Rivandi Ainul Putra, Yusril Ihza Muhammad, Mega Purnamasari | 1-11 |
| | | |
| --- | --- | --- |
| | Anis Saleh, Yan Herdianzah, Andi Pawennari, Arfandi Ahmad | 12-20 |
| | | |
| --- | --- | --- |
| | Eko Ari Wibowo, Muhammad Nur Wahyu Hidayah, Rohmat Setiawan, Yohanes Trijoko Wibowo, Bonaventura Lingga Krisna | 21-28 |
| | | |
| --- | --- | --- |
| | Muhamad Mukafi, Ahmad Zulkifli | 29-40 |
| | | |
| --- | --- | --- |
| | Vita Sarasi, Nugroho Djati Satmoko, Vivian Winita | 41-51 |
| | | |
| --- | --- | --- |
| | Horas Canman, Hasbullah Hasbullah | 52-64 |
| | | |
| --- | --- | --- |
| | Sayyidah Maulidatul Afraah, Almira Husnun Nurhana Yasmono, Winanda Dyah Utari, Wahyudi Sutopo, Muhammad Hisjam | 65-76 |
| | | |
| --- | --- | --- |
| | Lina Dianati Fathimahhayati, Fahreza Dwi Witriyan | 77-88 |
| | | |
| --- | --- | --- |
| | Muhammad Rizki Rachmadan | 89-98 |
| | | |
| --- | --- | --- |
| | Sugiyanto Sugiyanto, Akhmad Yunani, Lely Savitri Dewi, M. Arsyad Arradya S.P. | 99-109 |