---
| | |
| --- | --- |
| Journal title | MIX : Jurnal Ilmiah Manajemen |
| Initials | Jurnal MIX |
| Online ISSN | 2460-5328 |
| Print ISSN | 2088-1231 |
| Accreditation Status | Sinta 2 Accredited Journal, No. 85/M/KPT/2020 |
| Frequency | 3 issues per year (February, June, and October) |
| DOI Journal | 10.22441/jurnal_mix by |
| OAI Journal | http://publikasi.mercubuana.ac.id/index.php/Jurnal_Mix/oai by |
| Editor-in-chief | Dr. Yanto Ramli, SS., M.M. |
| Publisher | Master of Management, Universitas Mercu Buana |
| Cite Analysis | Google Scholar, Sinta |
| Indexing | Google Scholar, DOAJ, Sinta, Garuda Ristekbrin. |
---
MIX Journal (MIX) with ISSN: 2460-5328 (online) and ISSN: 2088-1231 (printed), is published by the Faculty of Economics and Business under the Master of Management Program Universitas Mercu Buana. MIX Journal is published thrice a year in February, June and October. MIX Journal will review all submitted manuscripts by external and internal Editorial Team and Reviewers. The manuscripts will be reviewed by double-blind peer reviewer.
MIX Journal is indexed/accredited SINTA2 by Kemenristek/BRIN the Republic of Indonesia letter number: 05/M/KPT/2020.
As in progress, we have made continuously improvement for the journal, New Author Guidelines and New Article Template have been provided to help the Author to prepare a proper manuscript.
MIX Journal invites Author to submit articles with the following scopes:
- Strategic Management
- Green Management
- Eco Tourism
ONLINE SUBMISSION
Before submission, all Authors must read and review the Author Guidelines and Article Template properly to make sure have understood the content of the Guidelines and Template.
All manuscripts must follow the Guidelines and Template properly and also provide contact information for communication purposes (email and mobile phone). All manuscripts must be submitted online through Open Journal System (OJS).
For further information, the Author may email the Journal administration contact: [email protected]
LANGUAGE EDITION
MIX Journal will only accept and publish manuscript in English and no other languages will be accepted.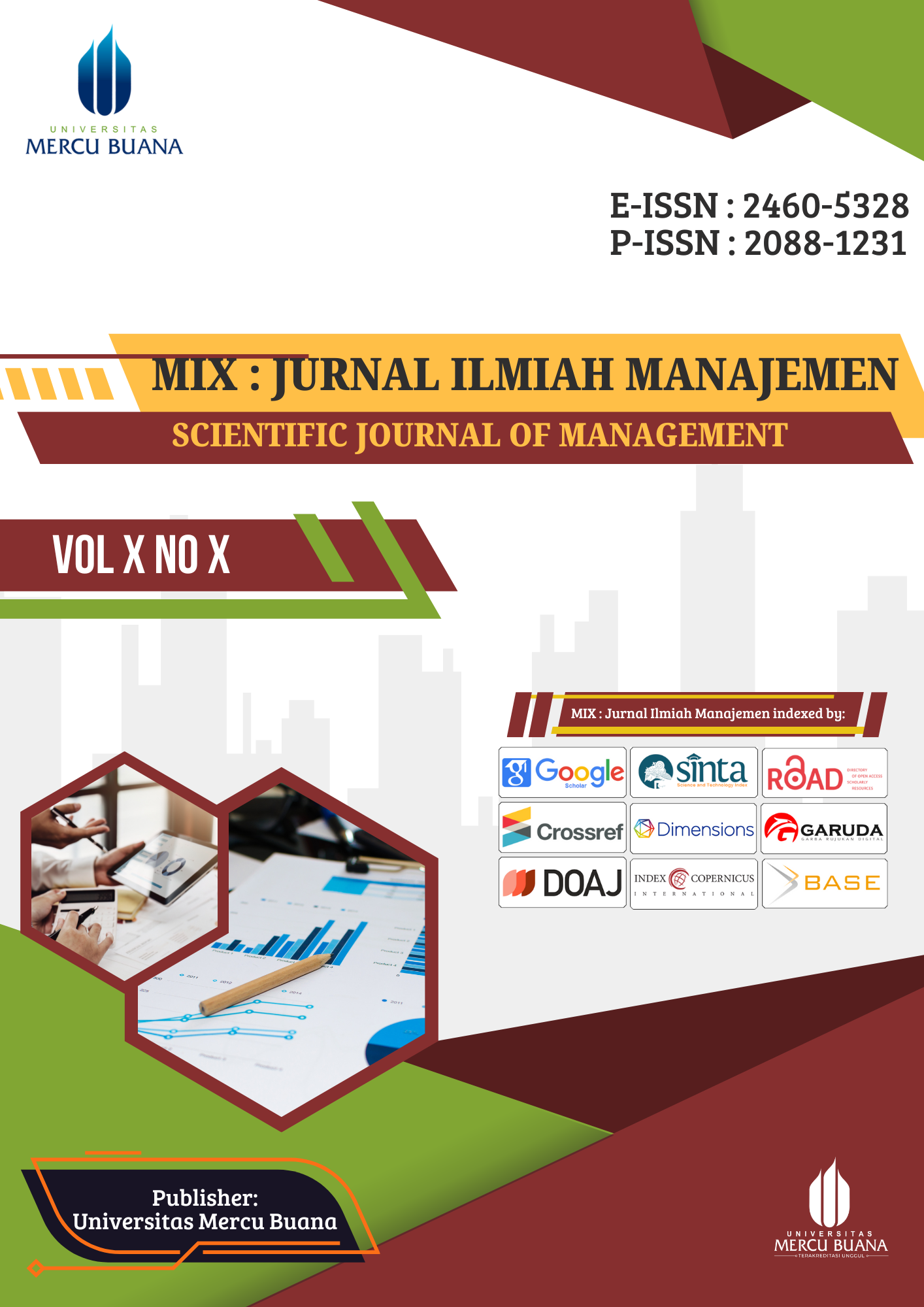 Announcements
No announcements have been published.
Vol 13, No 3 (2023): MIX: JURNAL ILMIAH MANAJEMEN
Table of Contents
Articles
| | | |
| --- | --- | --- |
| | Made Hizkia, Gede Ariadi | 504-518 |
| | | |
| --- | --- | --- |
| | Muhammad Yusuf, Ahmad Hidayat Sutawidjaya, Gunawan Witjaksono, Imelda Oktaviani | 519-535 |
| | | |
| --- | --- | --- |
| | Afriyani Afriyani, Nurfatwa Andriani Yasin, Agussalim Rahman | 536-558 |
| | | |
| --- | --- | --- |
| | Teguh Sriwidadi, Hartiwi Prabowo | 559-574 |
| | | |
| --- | --- | --- |
| | John Chaidir, Taufik Zulfikar | 575-599 |
| | | |
| --- | --- | --- |
| | Hedwigis Esti Riwayati, Markonah Markonah, Maratus Sholeha | 600-613 |
| | | |
| --- | --- | --- |
| | Widarto Rachbini, Silverius Y. Soeharso, Harimurti Wulandjani, Tiolina Evi, Erwin Permana, Suyanto Suyanto | 614-635 |
| | | |
| --- | --- | --- |
| | Misna Ariani, Didik Hadiyatno, Dwinda Tamara, Imam Arrywibowo, Farrah Diba Safira Yasmin | 636-652 |
| | | |
| --- | --- | --- |
| | Didy Ika Supryadi, Taufan Handika, Daru Asih, Himawan Sutanto, Shine Pintor Siolemba Patiro, Dori Heza Morales | 653-672 |
| | | |
| --- | --- | --- |
| | Eko Budi Satoto, Masno Marjohan, Suyanto Suyanto | 673-691 |
| | | |
| --- | --- | --- |
| | Lutfi Lutfi, Edi Rahmat Taufik, Hendra Hermawan | 710-725 |
| | | |
| --- | --- | --- |
| | Fajra Octrina, May Swastawati | 726-742 |
| | | |
| --- | --- | --- |
| | Nina Nurani, Nurul Hermina, Erwin Firdaus | 743-754 |
| | | |
| --- | --- | --- |
| | Wasito Wasito, Muhammad Iqbal Baihaqi | 755-771 |